New MASTERS OF DISGUISE EP
Saturday, May 14, 2016
After their successful second album "The Savage And The Grace" and their exciting tour with OMEN in Spring 2015 MASTERS OF DISGUISE felt the need to return to their musical roots and to make tribute to their dedication to the US Metal of the 1980s.
Before beginning work on their third, regular long player, MASTERS OF DISGUISE releases the EP "The Fine Art Of Aging Gracefully" off their own bat, recorded & mixed by Coldsmith, mastered by Eroc. It introduces an unforgettable renaissance of the 80s US Metal scene, and MASTERS OF DISGUSE feel it their duty to uphold the spirit and feeling in modern times, they bring new life into US-(Speed) Metal classics.

Tracklisting:
01. Torture Me (Omen)
02. Goblin's Blade (Heathen)
03. Battalions (Metal Church)
04. Back To Reign (Agent Steel)
05. Master Of Disguise (Savage Grace)
06. Frost And Fire (Cirith Ungol)

The 6-track digipak CD is manually numbered by the band and is also available from Forever Rock Mailorder.
The Fine Art Of Aging Gracefully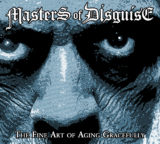 ASTRALION free download
Thursday, May 12, 2016
ASTRALION's sophmore album "Outlaw" will be released today!
Want a SIGNED copy by the band? Hurry up and be one of the first 50 buyers to order here – while supply last!
Download "Black Adder" for free here.
Outlaw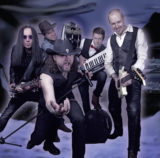 ASTRALION "Outlaw" CD – new release date
Monday, May 9, 2016
ACHTUNG:
Der Veröffentlichungstermin der ASTRALION – Outlaw CD wurde auf den 13. Mai 2016 verschoben.

ATTENTION:
The release date of the ASTRALION – Outlaw CD is postponed to May 13th, 20016.

Album trailer for ASTRALION's new album "Outlaw".


Outlaw
BURNING BLACK – New video out now
Thursday, December 17, 2015
'Love Me' is the title of the latest video by BURNING BLACK. The song is taken of their album "Remission Of Sin", which is available as CD from e.g. amazon, Forever Rock Mailorder, etc., or as MP3 on platforms like iTunes, amazon, etc.


SPOILER ALERT – iTunes advent calender
Thursday, December 10, 2015
We know, what is hidden behind the 16th door of the iTunes advent calender! For those of you still looking for Christmas presents, here is your chance. On December 16th, iTunes will feature "A New Dawn Ending" by ANCIENT BARDS as daily special. You can download the complete album for EUR 3.99 this one day only at: http://snip.ftpromo.net/ancientbardsitunes
"COMBAT METAL" by FIREFORCE, new video available
Tuesday, December 1, 2015
The video 'Combat Metal' gives you a "sneak peak" of the action one can experience in the live shows of FIREFORCE. The song is taken from the album "Deathbringer", available on amazon, Forever Rock Mailorder, etc., or as MP3 on platforms like iTunes, amazon, etc.


VEXILLUM Tourdates 2015
Tuesday, November 17, 2015
Folk Power Metallics VEXILLUM announce new tourdates for 2015.
On tour with ELUVEITIE:
20.11.2015 – Dornbirn, Austria – Conrad Sohm
23.11.2015 – Kiel, Germany – Orange Club
24.11.2015 – Aarhus, Danmark – Voxhall
25.11.2015 – Copenhagen, Danmark – Pumpehuset
27.11.2015 – Haugesund, Norway – Skala
28.11.2015 – Bergen, Norway – Garage
29.11.2015 – Oslo, Norway – John Dee
Supporting SKALMOLD:
21.11.2015 – Frankfurt, Germany – Nachtleben
22.11.2015 – Hannover, Germany – Lux
Supporting FREEDOM CALL:
04.12.2015 – Rheine, Germany – Hypothalamus
05.12.2015 – Markneukirchen, Germany – Warwick/Framus Halle
06.12.2015 – Berlin, Germany – K17

LATEST ALBUM AVAILABLE HERE:
Forever Rock Mailorder
ebay
amazon.de

VEXILLUM videoclips:


Unum
ROXXCALIBUR – Gems Of The NWOBHM
Tuesday, November 10, 2015
The "gold diggers" are back. Their third album, "Gems Of The NWOBHM" is definitely no obscurity for people in the know. Even though the majority of worldwide metal fans may not be familiar with all of the selected songs in their original form, it remains an incredibly good metal CD, which, although it has the spirit of the early Eighties within it, is still made for the here and now. Liner notes by author and NWOBHM expert John Tucker ("Neat & Tidy – The Story of Neat Records", "Suzie Smiled" etc.). Cover artwork by Rodney Matthews (Diamond Head, Praying Mantis, Tygers Of Pan Tang, Bitches Sin, Magnum, Nazareth etc.). Mastered by Eroc, known not only for his role as drummer of the Krautrock legends Grobschnitt but also as studio man for his remastering of classics of the Sixties and Seventies.

The album includes the CD only track "Rip Off" and comes in a slipcase including a sticker and a poster.
Tracklisting:
Original by LEGEND 1982

Original by SATAN'S EMPIRE 1981

Original by TAURUS 1980

Original by BASHFUL ALLEY 1980

Original by VIRTUE 1987

Original by TRESPASS 1980

Original by MYTHRA 1981

Original by SPLIT BEAVER 1981

Original by MARQUIS DE SADE 1981

Original by WHITE SPIRIT 1980

Original by ARAGORN 1981

Original by BUDGIE 1980

Original by SMOKIN' ROADIE 1983

Original by FIST 1980
Total playing time 70:56
Soundcloud playlist – Free single download:
Video Album Trailer
Third album of the successful NWOBHM Tribute band.
Band exist of members/ex-members of a.o. Manilla Road, Masters of Disguise, Jameson Raid, Savage Grace, Viron
Excellent live band! Played the Rock Hard, Bang Your Head & Keep It True Festivals + shows with a.o. Saxon, Demon, Blitzkrieg, Praying Mantis, Tygers Of Pan Tang…
Liner Notes by John Tucker, Rodney Matthews and the original bands
Cover Artwork by Rodney Matthews
Mastered by Eroc
20. November 2015