EXCALION – "Primal Exhale"
Tuesday, July 12, 2011
tba.
DELIRION – "Lotus"
Tuesday, July 12, 2011
tba.
ROXXCALIBUR – Lords Of The NWOBHM
Friday, May 20, 2011
Roxxcalibur are bringing songs from such cult names as MORE, SATAN, CRYER, QUARTZ, OXYM, SPARTA, SARACEN, TOKYO BLADE, BLOOD MONEY, HOLLOW GROUND, WITCHFYNDE, but also VENOM, SAXON and TYGERS OF PAN TANG back to the daily listening habits of the new millennium. Co-produced by Chris Tsangarides (Judas Priest, Black Sabbath, Yngwie Malmsteen, Thin Lizzy etc.).
Tracklisting:
Total Playing Time 60:40

Co-produced by Chris Tsangarides (Judas Priest, Black Sabbath, Yngwie Malmsteen, Thin Lizzy etc.)
15 Tracks incl. the unreleased and never completed Saxon Song "Lift Up Your Eyes"
Liner notes by John Tucker (author of Suzie Smiled and Biff Byford's Biographie) and others
Cover artwork by Rodney Matthews (Praying Mantis, Magnum, Tygers Of Pan Tang etc.)
First edition in slipcase with bonus DVD, poster and sticker
Members of Savage Grace, Griffin, Thunder Rider, Abandoned
20. May 2011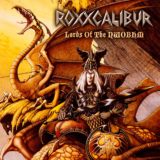 MAGIC KINGDOM – Symphony Of War
Friday, October 29, 2010
"Symphony Of War" appears like a soundtrack for a blockbuster history movie and will attract fans of Malmsteen or Rhapsody of Fire. The sound is influenced by classical music, filigree riffing, big choirs and mighty melodies, notwithstanding first-class Metal attacks and a well-balanced heaviness. Limited double CD in deluxe slipcase includes two bonus tracks, video clip, interview with the band, wallpapers, poster & sticker!
LMPL 1010-125 Ltd. 2CD
Tracklisting:
Total playing time 71:26
Fantastic Symphonic Power Metal with deep, mighty, catchy choruses!
For fans of Malmsteen, Rhapsody of Fire and similar bands
Vocalist Olaf Hayer is known for his work with Luca Turilli, Dionysus, Symphonity to name just a few
One of Europe's best Symphonic Power Metal outfits with an international line-up
The straight, hard and hefty mix was done by Uwe Lulis (Rebellion, ex-Grave Digger)
Cleverly arranged story with great artwork by Leo Hao (Iced Earth, Blind Guardian, among others)
Ltd. 2CD in slipcase incl. 2 bonus tracks, videoclip (We Rise), interview, wallpapers, poster & sticker
29. Oct 2010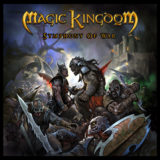 GHOST MACHINERY – Out For Blood
Friday, August 27, 2010
"Out For Blood" is a technically complex, finely interpreted Melodic Power metal album. From start to finish, the eleven songs impress the listener with the explosive guitar work and hugely powerful choruses with great unforgetability factors, which not even the Scandinavian kings of metal were able to write in their heyday. It's positive metal power in every note!

Tracklisting:
Total Playing Time 46:19

Pete Ahonen, Burning Point singer & guitar player, with the sophomore album of his second band
Fantastic Neo-Classical Power Metal with unforgettable, powerful choruses!
All band members can look back on extensive musical experience in various Finnish bands.
For fans of Sonata Arctica, Stratovarius, Thunderstone, Altaria, etc…
Worldwide tremendous reviews for their debut album "Haunting Remains".
Cover artwork by Rainer Kalwitz (Metal Church, Shadow Gallery, Praying Mantis, etc.)
27. Aug 2010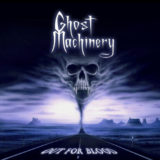 JUVALIANT – Inhuman Nature
Friday, June 4, 2010
On "Inhuman Nature" JUVALIANT present nine tracks of the highest quality in both composition and musicianship. The sheer variety of the tracks on which neither heaviness, melody or bombastic choruses are ignored, high recognizability has been programmed by default. Whichever way you look at it, JUVALIANT and their debut album have come up with a very impressive statement of their musical visions.
Tracklisting:
Total playing time 55:38
Debut album of Austria's most versatile Prog Metal Band
Musically a balanced mixture of elements of Dream Theater, Symphony X, Threshold, Kamelot, Angra and Epica
Great artwork by the Columbian artist Felipe Machado Franco who has worked in the past for Iced Earth, Ayreon and Axel Rudi Pell
04. Jun 2010
BLACK MAJESTY – In Your Honour
Friday, May 14, 2010
With their three previous albums BLACK MAJESTY have proved that they are absolutely capable of playing excellent melodic Power Metal, which has its roots in the very earth of the genre. The songs on "In Your Honour" reflect elements of Judas Priest, Iron Maiden, Helloween, Queensyrche and even Hammerfall without trying to copy them, topped by the BLACK MAJESTY trademarks in the form of brilliant lead guitars and highly melodic vocals.
Tracklisting:
Total playing time 42:54
Bonustracks Digipak:
10. Two Hearts / 4:35
11. Silent Company (Accoustic) / 5:13
Total playing time 52:37

Diversified mixture of Judas Priest, Iron Maiden, Queensryche, Hammerfall, Helloween and Pegazus
Great reviews of their previous releases
Album produced and mixed by Roland Grapow (Masterplan, ex-Helloween)
Live shows with Edguy, Hammerfall, Dragonforce, Saxon, Nevermore, Paul DiAnno, etc…. including performance at the Wacken Open-Air Festival
European tour in June 2010
14. May 2010
SAVAGE GRACE – After The Fall From Grace / Ride Into The Night
Friday, April 23, 2010
When the talk is about high quality 1980s metal, the US band SAVAGE GRACE has a truly legendary reputation. The band's releases belong to the basis of every reasonable metal collection. However, it has become increasingly difficult to find works by the legendary West Coast band, so this musical masterpiece is now re-appearing in high class form: "Master Of Disguise" and "The Dominatress" have been completely remixed and remastered, making the old material sound truly heavy and as clear as a bell.
Tracklisting:
After The Fall From Grace
Ride Into The Night
Bonustracks:
Total playing time 68:25
Official re-release of the US Metal classics in new sound form (remastered by Uwe Lulis).
With three rare bonus tracks.
SAVAGE GRACE are performing at the 13th "Keep It True" Festival. They are one of the most requested bands for the event.
Milestones of early US Speed Metal.
23. Apr 2010