DELIRION – "Lotus"
Tuesday, July 12, 2011
tba.
FLASHBACK OF ANGER sad loss…  
Tuesday, June 21, 2011

We just received the sad message that Francesco Masini, bass player of FLASHBACK OF ANGER, lost his battle with cancer on June 18th. Our condolences go out to the family and friends of a man gone way too early.
ROXXCALIBUR to play KIT Festival in 2012
Wednesday, June 1, 2011
After the huge success of the NWOBHM-Anniversary Show at KEEP IT TRUE Festival 2009, where numerous original singers of the NWOBHM have shared the stage with ROXXCALIBUR  (e.g. Enid Williams (Girlschool), Brian Ross (Satan/Blitzkrieg), Dave Hill (Demon) and many more), there will be another NWOBHM Anniversary Show at KEEP IT TRUE Festival 2012.
The NWOBHM-Anniversary Show at KIT 2009 brought not only a second spring to the NWOBHM and its bands, but it also established the then-newcomers ROXXCALIBUR with their debut album "NWOBHM For Muthas" on the metal scene. For their dedication to the NWOBHM and its original bands, ROXXCALIBUR are highly respected ever since. … read all
ROXXCALIBUR: Release date set for new album "Lords Of The NWOBHM"
Tuesday, May 24, 2011
The long-awaited, second album from Roxxcalibur, "Lords Of The NWOBHM" is already causing something of a stir. Even only months after the release of their debut album, "NWOBHM For Muthas" (April 2009) the fans were demanding another dose in the form of a CD. But the "Keepers of the Grail of NWOBHM" weren't prepared to rush things. "To pick the right songs which also suit us as musicians, from a pool of first-class NWOBHM pearls, needs just as much time as it does to write our own songs", explains singer Alexx Stahl. The band had planned to demonstrate an even wider view and more extreme selection of the New Wave of British Heavy Metal on "Lords Of The NWOBHM" than they did on their debut. "The finished CD shouldn't just sound like the output of a coverband but should be as though it had come from one balanced mould.".
BLACK MAJESTY to support Blind Guardian
Tuesday, May 24, 2011
Black Majesty will support Germany's Blind Guardian on both of their upcoming  Australian tour dates. Australia's Eyefear will also be on the bill making both shows a huge bill of Power Metal.
Friday 30th September 2011 – The Factory Theatre (All Ages), Sydney, Australia
Sunday 2nd October 2011 – Bilboard, Melbourne, Australia
ROXXCALIBUR – Lords Of The NWOBHM
Friday, May 20, 2011
Roxxcalibur are bringing songs from such cult names as MORE, SATAN, CRYER, QUARTZ, OXYM, SPARTA, SARACEN, TOKYO BLADE, BLOOD MONEY, HOLLOW GROUND, WITCHFYNDE, but also VENOM, SAXON and TYGERS OF PAN TANG back to the daily listening habits of the new millennium. Co-produced by Chris Tsangarides (Judas Priest, Black Sabbath, Yngwie Malmsteen, Thin Lizzy etc.).
Tracklisting:
Total Playing Time 60:40

Co-produced by Chris Tsangarides (Judas Priest, Black Sabbath, Yngwie Malmsteen, Thin Lizzy etc.)
15 Tracks incl. the unreleased and never completed Saxon Song "Lift Up Your Eyes"
Liner notes by John Tucker (author of Suzie Smiled and Biff Byford's Biographie) and others
Cover artwork by Rodney Matthews (Praying Mantis, Magnum, Tygers Of Pan Tang etc.)
First edition in slipcase with bonus DVD, poster and sticker
Members of Savage Grace, Griffin, Thunder Rider, Abandoned
20. May 2011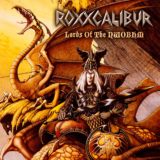 BLACK MAJESTY featured on Guitar gods and Masterpieces TV show
Thursday, April 21, 2011
Black Majesty guitarist's Hanny and Stevie were recently featured on Australia's Guitar Gods & Masterpieces TV Show show. Checkout the following links for solo exerpts from the song Far Beyond and Dragon Reborn here and here.
MAGIC KINGDOM – Symphony Of War
Friday, October 29, 2010
"Symphony Of War" appears like a soundtrack for a blockbuster history movie and will attract fans of Malmsteen or Rhapsody of Fire. The sound is influenced by classical music, filigree riffing, big choirs and mighty melodies, notwithstanding first-class Metal attacks and a well-balanced heaviness. Limited double CD in deluxe slipcase includes two bonus tracks, video clip, interview with the band, wallpapers, poster & sticker!
LMPL 1010-125 Ltd. 2CD
Tracklisting:
Total playing time 71:26
Fantastic Symphonic Power Metal with deep, mighty, catchy choruses!
For fans of Malmsteen, Rhapsody of Fire and similar bands
Vocalist Olaf Hayer is known for his work with Luca Turilli, Dionysus, Symphonity to name just a few
One of Europe's best Symphonic Power Metal outfits with an international line-up
The straight, hard and hefty mix was done by Uwe Lulis (Rebellion, ex-Grave Digger)
Cleverly arranged story with great artwork by Leo Hao (Iced Earth, Blind Guardian, among others)
Ltd. 2CD in slipcase incl. 2 bonus tracks, videoclip (We Rise), interview, wallpapers, poster & sticker
29. Oct 2010