LAST KINGDOM – Chronicles Of The North
Tuesday, February 21, 2012
"Chronicles Of The North" is a solid, often driving Melodic Metal Album with symphonic parts and compact melodies. All nine tracks suit each other perfectly and give us an overall picture of a band, which knows what it wants to achieve and what it can do best. LAST KINGDOM make a solid statement that is equal to the standards of Stratovarius, Thunderstone, Blind Guardian and Cain's Offering.
Tracklisting:
Total playing time 47:24
recorded, mixed and mastered by Andy LaRocque (King Diamond) at his Sonic Train Studios in Sweden
young Swedish band who have gained an excellent name for themselves on the underground scene
Melodic Metal, underlined by superb melodies and ass-kicking, excellently played guitars
for fans of Stratovarius, Thunderstone, Blind Guardian and Cain's Offering
09.Mar 2012
BLACK MAJESTY announce new album title
Thursday, February 2, 2012
Black Majesty have announced 'Stargazer' as the title of their new album due in May 2012. Black Majesty began recording drums back in October 2011 with Roland Grapow (Masterplan) at Grapow Studios in Slovakia and have since been busy in their homeland Australia laying down guitars and vocals. Roland Grapow will mix the album in the coming months.
GHOST MACHINERY – Out For Blood
Friday, August 27, 2010
"Out For Blood" is a technically complex, finely interpreted Melodic Power metal album. From start to finish, the eleven songs impress the listener with the explosive guitar work and hugely powerful choruses with great unforgetability factors, which not even the Scandinavian kings of metal were able to write in their heyday. It's positive metal power in every note!

Tracklisting:
Total Playing Time 46:19

Pete Ahonen, Burning Point singer & guitar player, with the sophomore album of his second band
Fantastic Neo-Classical Power Metal with unforgettable, powerful choruses!
All band members can look back on extensive musical experience in various Finnish bands.
For fans of Sonata Arctica, Stratovarius, Thunderstone, Altaria, etc…
Worldwide tremendous reviews for their debut album "Haunting Remains".
Cover artwork by Rainer Kalwitz (Metal Church, Shadow Gallery, Praying Mantis, etc.)
27. Aug 2010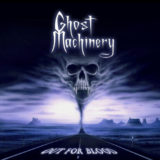 BLACK MAJESTY – In Your Honour
Friday, May 14, 2010
With their three previous albums BLACK MAJESTY have proved that they are absolutely capable of playing excellent melodic Power Metal, which has its roots in the very earth of the genre. The songs on "In Your Honour" reflect elements of Judas Priest, Iron Maiden, Helloween, Queensyrche and even Hammerfall without trying to copy them, topped by the BLACK MAJESTY trademarks in the form of brilliant lead guitars and highly melodic vocals.
Tracklisting:
Total playing time 42:54
Bonustracks Digipak:
10. Two Hearts / 4:35
11. Silent Company (Accoustic) / 5:13
Total playing time 52:37

Diversified mixture of Judas Priest, Iron Maiden, Queensryche, Hammerfall, Helloween and Pegazus
Great reviews of their previous releases
Album produced and mixed by Roland Grapow (Masterplan, ex-Helloween)
Live shows with Edguy, Hammerfall, Dragonforce, Saxon, Nevermore, Paul DiAnno, etc…. including performance at the Wacken Open-Air Festival
European tour in June 2010
14. May 2010
BLACK MAJESTY – Tomorrowland
Friday, June 1, 2007
BLACK MAJESTY is one of the premium quality Melodic Power Metal bands from Australia. They have a distinct feeling to connect traditionally forged steel with superb, speedy melodies. "Tomorrowland" brims with energetic guitar duels, increased tempo and a lot of thrust. This positive Metal Power is taken to an enormously high level by the concise vocal lines of exceptional singer John Cavaliere.
Tracklisting:
Total playing time 49:39
01. Jun 2007
BLACK MAJESTY – Silent Company
Monday, June 27, 2005
BLACK MAJESTY are following the melodic-classic paths laid out by Iron Maiden, (early) Queensryche and Helloween. John Cavaliere, who, in the higher vocal ranges is reminiscent of Bruce Dickinson, truly earns his reputation as one of the best metal singers of the southern hemisphere! Their album "Silent Company" is an absolute must-have album for every metal fan who puts store by quality.
Tracklisting:
Total playing time 47:02
27. Jun 2005
BLACK MAJESTY – Sands Of Time
Monday, September 29, 2003
BLACK MAJESTY are Australia's answer to Jag Panzer and Queensryche. Melodic, bombastic and often doomy. The songs distinguish themselves very clearly from today's average melodic mash.
Tracklisting:
Total playing time 55:29
29. Sep 2003